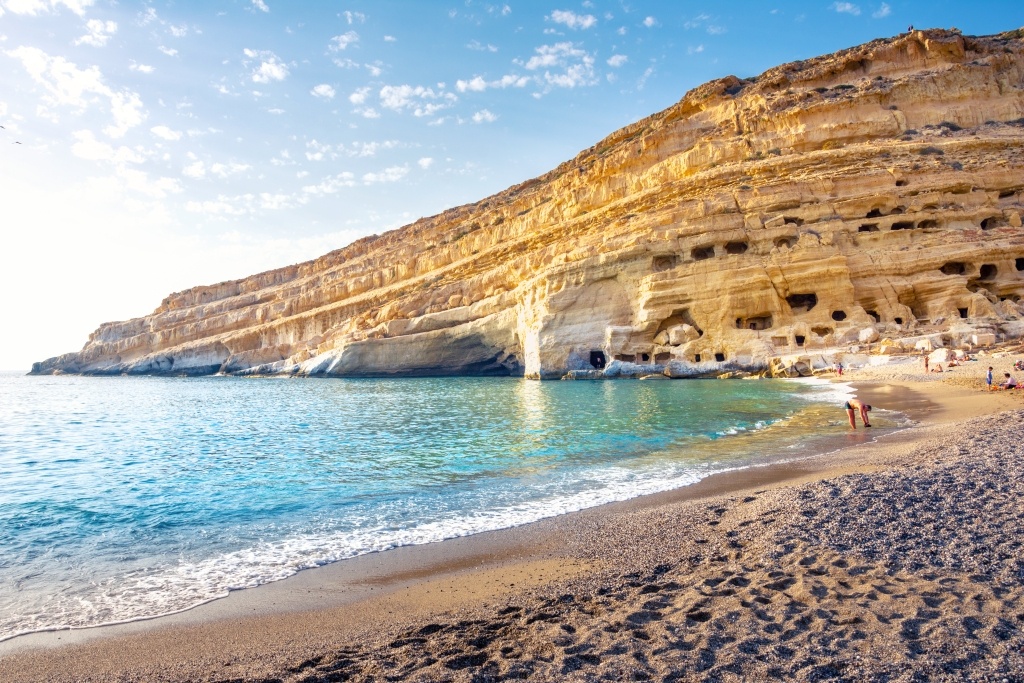 12 OF THE BEST BEACHES OF HERAKLION

Source: www.discovergreece.com
One of the most popular holiday destinations in Greece, Heraklion bursts with reasons to visit. The legendary Minoan palace of Knossos, great food, traditional villages and vineyards, and activities in nature are all epic experiences, as well of course Crete's world-famous hospitality that makes you feel part of the family. And to that list, you can add Heraklion's outstanding beaches, many unknown but certainly not unsung.
There's wild beauty to most of the, while others are easily accessible and fully organized. So, if you're planning to take your holidays in Heraklion you've come to the right place as we introduce you to 12 of the best beaches in Heraklion.
Agia Pelagia beach
Agia Pelagia Beach caters to everyone. The once-small fishing village in which the beach is found has turned into a fully functioning tourist resort with hotels, restaurants and bars. It attracts families and younger crowds drawn by the party vibe, as well as water sports enthusiasts. If you want something a bit quieter once you're here, you can swim to the tiny sandy beach around the bay to the north, close to the cave chapel of Evresi. Alternatively, there are other nearby beaches like Lygaria, Mononaftis and Psaromoura. They all have fine sand and facilities. As for Agia Pelagia Beach, enjoy it with abandon.
Matala beach
The claim to fame of Matala beach goes back several decades to the heyday of the free love movement, with the limestone caves that line the fine-pebble beach once serving as makeshift homes for hippies. Nowadays, it's fully organised and family friendly which makes it feel a little incongruous, but don't let that stop you from enjoying it.
A 1.5km hike away is Kokkini Ammos Beach, equally pretty and worthy of your time. If you feel bold, the Minoan Palace of Phaistos is not too far away.
Agiofarago beach
Secluded takes on a whole new meaning at Agiofarago Beach. If the name doesn't clue, you in the obligatory 30-minute hike through a canyon and absence of amenities surely will. Flanked by a sheer rock face, with clear waters lapping its golden sand, this place is great for couples and snorkelling enthusiasts. Some of the caves inside the gorge are reportedly also home to ascetics and hermits so maybe pack a flashlight. Alternatively, if you aren't too keen on the hike, you could always head to Vathi beach, one of the prettiest spots around, located within a small cove and with fine yellow sand and tamarisk trees. Getting there requires a small boat ride from Kali Limenes or a drive along a dirt road. But it's more than worth it.
Kommos beach
One of the longest beaches near Heraklion, Kommos is a great alternative close to Matala Beach. Its size allows you to blend in with nature but still enjoy plenty of amenities and getting it is straightforward. You'll find fat, fluffy sand as far as the eye can see and clear blue waters. The northern part of the beach is nudist-friendly if you fancy donning your birthday suit. And note that it's a nesting site for loggerhead turtle eggs, so tread carefully. And Kommos beach reveals a final drawcard with an archaeological ruin located in the southern part. Spread out and enjoy the experience. You could even visit the adjacent Afrathias and Pachia Ammos beaches if the mood takes you.
Listis beach
Listis may mean robber in Greek, but it is you who'll be laughing all the way to the bank because this beach is pure gold. Located between Kastri and Kamboula beaches on the south coast of Heraklion, Listis is one of the prettiest and wildest beaches near Heraklion. It's notable for its shallow, clear blue waters, greenery and fun disposition and is made up of sand and fine pebbles, with a giant boulder dividing the beach in two.
They say the beach was home to a resident robber back in the day. If you explore to the south, you'll get to a bigger sandy expanse that is essentially a continuation of Listis Beach.
To get there, you'll need to leave your car and walk down a short, steep path. Alternatively, you can park at Kamboula Beach and walk. And an easy 1.5km car ride away is another great beach choice, Skouros, with sand and fine pebbles and a row of tamarisk trees at the back of the beach.
Tris Ekklisies beach
One of Heraklion's best-known beaches, Tris Ekklisies is named after the charming seaside village in southern Crete. It's one of the wildest and most remote parts of the region, with fewer visitors, and the beach is known for its fluffy sand, deep clear waters and isolation. You won't find beach bars at Tris Ekklisies, but there are several tavernas in the settlement and they'll do just fine. If you do fancy a change, you can walk to nearby Pachia Ammos beach.
Potamos beach
If you're in Malia and want a break from the revelry, Potamos beach is for you. Bathed in fine sand and lapped by shallow blue waters, it is a 700m expanse of sand that is wild and exotic but also has amenities. The White Mountains loom in the distance and Potamos beach is a great choice if you're planning to visit the nearby Minoan palace of Malia.
Limanakia beach
There are three main beaches to visit (all with clear green-blue water, fine pebbly sand and amenities such as beach bars and sunbeds). Sarantari is a gorgeous slice of sandy pebbles backed by a 15m rock face that gives a feeling of intimacy and leads around to Gefyri Beach, which has similar features and offers slightly more leg space. If you want something livelier, Limanakia Beach is in a third bay just around the peninsula to the south.
Amnissos beach
Close to the city of Heraklion, Amnissos beach is a long expanse of fine white sand and boasts shallow, clear water that is great for kids and has extensive water sports facilities. The trademark view of Amnissos beach is the islet of Monocharako in the bay. Otherwise, choose your sunbed and take it easy. Alternatively, the fat, powdery sand of nearby Arena beach is worth visiting. Note that Amnissos beach is best avoided when the northerly winds pick up.
Diskos beach
Another of the memorable beaches in southern Heraklion is Diskos, around 500m west of Lentas village. There are no sunbeds or umbrellas, just a smattering of tamarisk trees for shade and a landscape of dark sand and fine pebbles and the rocky terrain framing the beach. You will, however, find a couple of tavernas and a cafe close by for essentials. Diskos is ideal if you're staying in the area and want a little more peace than other nearby beaches, such as the main beach of Lentas. Stay for the sunset!
Koudoumas beach
For even greater solitude, you can't beat a beach with a 20km dirt road to get to it and a working monastery just behind it. That's what you get at Koudoumas beach, also on Heraklion's south coast, at the end of the long, winding road that starts at Sternes village and descends around 1,000m to sea level. The final stretch is alongside the Koudoumas Gorge and is utterly beautiful.
The beach itself has fine pebbles and wonderful, clear water and the monastery extends to the edge of the beach, creating its own ambience of peace and tranquility.
Trypiti beach
The last of our beaches in Heraklion is for the more adventurous. To get there, you'll have to negotiate a 10km dirt road that, in some parts, passes within Trypiti Gorge on a road that becomes so narrow that it fits only one car. You reach it by passing through the villages of Vassilika Anogia and Vassiliki, after which the long dirt road begins until you emerge at the clear blue waters and craggy shoreline of Trypiti beach. There are some scattered trees for shade, but you'll need to come fully prepared. You pass a couple of tavernas with fantastic Cretan food on the way, but nothing else. Another great way to enjoy this beach is as part of a guided mountain bike excursion, which you can book locally. Alternatively, you can reach Trypiti beach by boat from the port of Lenta.