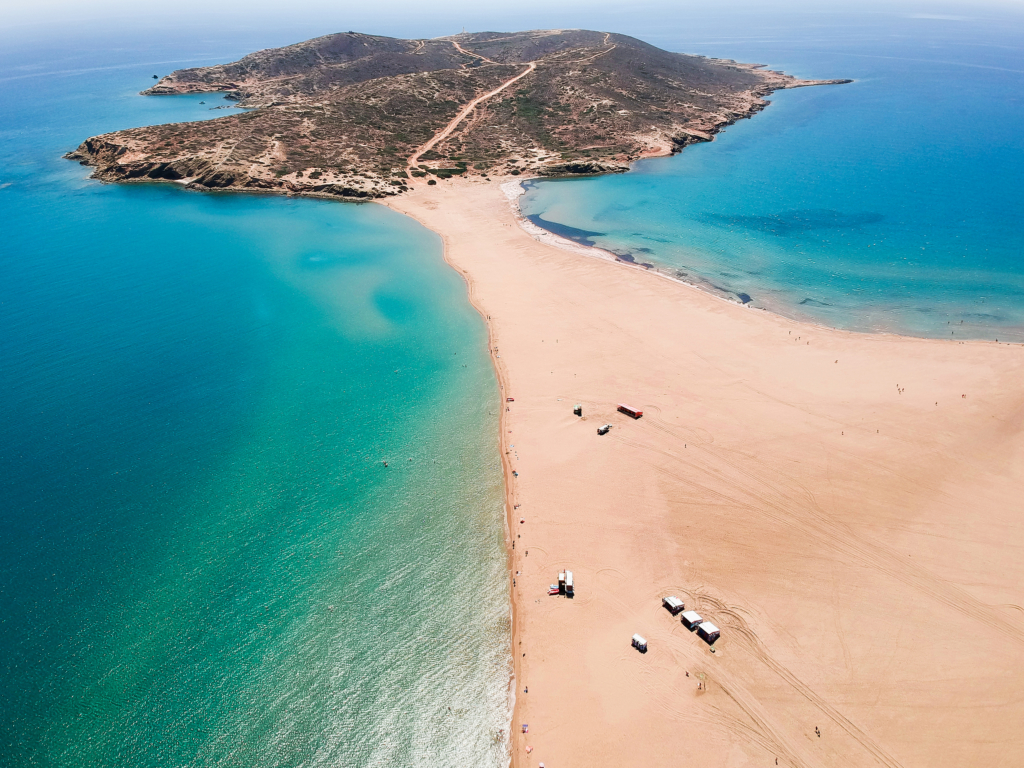 PRASONISI RHODES: THE BEACH WHERE 2 SEAS MEET

The kiss of two seas in Prasonisi… The "Green Island" lies at the southernmost tip of Rhodes and has one of the most spectacular beaches in the whole world.
The uniqueness of Prasonisi lies in the fact that depending on the season, it is an island or peninsula. In the summer, when the water level is low, a sandy spit looms out and Prasonisi becomes a peninsula attached to Rhodes. This spit is the sandy Prasonisi Beach, famous for its excellent geographical location, for its strong and stable Maltemi wind and for unique coastline making it possible to sail in diametrically different conditions in two different seas; the Aegean and the Mediterranean. These factors make it one of the most attractive and phenomenal places in the world for windsurfing and kiteboarding.
During the winter though as the water level gets higher, this true sandy paradise disappears under the sea and Prasonisi becomes an island again.
The Mediterranean and the Aegean seas merge into one, representing a magnificent spectacle. At the very southern edge of Prasonisi is installed an imperious lighthouse, from which the visitors can hear as the two seas collide with indignantly…
Prasonisi is not only a world-renowned paradise for windsurfers and kitesurfers. It is worth noting that the whole island is an important habitat of particular environmental interest. Its beaches with the soft sand and the very shallow water makes it also a perfect destination for couples who want to relax or families with kids. For those who want to visit the island with the impressive greenery at this time of year there are a few hotels and rooms to let as well as several restaurants, cafés and mini markets. Prasonisi is a place worth visiting all year round.